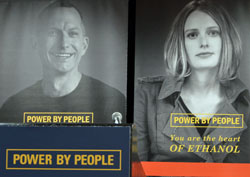 Over 70 ethanol supporters attended the American Coalition for Ethanol (ACE) annual Washington, DC fly-in March 22-23 during National Ag Week.
This is the 9th annual fly-in for the organization and coming during the first 100 days of the Trump presidency gives ethanol advocates a timely opportunity to discuss maintaining the Renewable Fuel Standard and expanding market opportunities for higher ethanol blends.
This virtual newsroom includes links to photos, audio and video from the conference. All content posted here is available free of charge for digital or print publication or broadcast. Credit can be given to AgNewsWire.
ACE DC 2017 Fly-in Photo Album
ACE #Ethanol Supporters in DC –
Interview with Brian Jennings, ACE
Ethanol Supporters on the Hill
Interviews with ACE DC Fly-in participants
Branstad Affirms Trump Support for #Ethanol
Interview with Eric Branstad, presidential advisor
Successful ACE Fly-in –
Interview with ACE president Ron Alverson, South Dakota
Busy Week for Ag on the Hill –
Interview with NCGA 1st VP Kevin Skunes, North Dakota
ACE Takes RVP Message to Hill
Interview with Ron Lamberty, ACE senior vice president