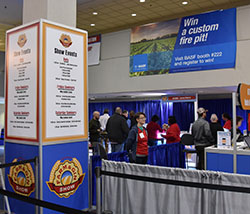 Welcome to the virtual newsroom for the 2017 Mid-South Farm & Gin Show sponsored by FMC. This is the 65th anniversary of the event, which was held March 3 & 4 in Memphis, Tennessee.
Besides the equipment and company products on display throughout the event's trade show, this year over 120 FFA students spent time volunteering at the event, packing 50,000 meals for the needy as part of the show's Farm Show Feeds program.
This virtual newsroom includes links to photos, audio and video from the conference. All content posted here is available free of charge for digital or print publication or broadcast. Credit can be given to AgNewsWire.
20176 Mid-South Farm & Gin Show Photo Album
Farm & Gin Show is #MSFGS17 and 65 –
Interview with Tim Price, Farm & Gin Show Director
The AgLaunch Startup Station Debuts at #MSFGS17
ZimmCast with Pete Nelson, AgLaunch
FMC Supports #MSFG17 and Cotton Growers
Interview with Chris Reat, FMC
Market Outlook from #MSFG17
Interview with Richard Brock
Live with Smart Nitrogen at #MSFGS17
Interview with Kelly Dupont, ESN
Agrium Offers Smart Nitrogen for Smart Farmers
Interview with Mike Howell, Agrium
FMC Command 3ME is a Top for Rice Growers
Interview with Don Johnson, FMC