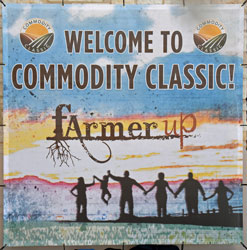 Welcome to the virtual newsroom for the 2017 Commodity Classic sponsored by FMC, John Deere, and Farmer's Edge. "Farmer Up" was the theme for this year's event held March 2-4, 2017 in San Antonio, Texas.
Established in 1996, Commodity Classic is America's largest farmer-led, farmer-focused convention and trade show, produced by the National Corn Growers Association (NCGA), American Soybean Association (ASA), National Association of Wheat Growers (NAWG), National Sorghum Producers (NSP), and Association of Equipment Manufacturers (AEM).
This virtual newsroom includes links to photos, audio and video from the conference. All content posted here is available free of charge for digital or print publication or broadcast. Credit can be given to AgNewsWire.
2017 Commodity Classic Photo Album
ASA and NCGA Talk Priorities at #Classic17 –
ASA press conference NCGA press conference
Host Organizations Address #Classic17
National Association of Wheat Growers National Sorghum Checkoff Program
AEM Study Shows Ag Economy Matters to Many –
Association of Equipment Manufacturers Press Conference
House Ag Committee Chair Speaks to #Classic17 –
Mike Conaway, Commodity Classic General Session Mike Conaway, Press Conference

High-Yield Strategies from @StollerUSA –
StollerUSA Break through Yield Barriers Session
Farmers Edge Makes Big #Classic17 Splash –
Interview with Jay Kinnaird, Farmers Edge, and farmer Trevor Scherman
Protecting Fungicide Tech with @UnitedSoy –
United Soybean Board Press Conference
Start, Grow, Finish with @StollerUSA –
Interview with Mike Lewallen Interview with Perry Galloway
ACE DC Fly-in During Ag Week –
Interview with Shannon Gustafson, ACE
RFA CEO Speaks Out –
Interview with Bob Dinneen at Commodity Classic
LibertyLink Finds Partners in FFA and AHA –
Interview with Jody Wynia, Bayer Interview with Iowa State FFA
USFRA Offers Unique 360 Look at Farming
Interview with Randy Krotz, USFRA
#Classic17 General Session
Commodity Classic Sponsoring Organizations
AEM Study Shows Ag Economy Matters to Many
Association of Equipment Manufacturers Press Conference
Propane Powerat #Classic17
Interview with Cinch Munson, Propane Education and Research
Sorghum Partners Powered By Chromatin
Interview with Scott Staggenborg, Chromatin
Bayer/Monsanto Excited About the Future
Bayer/Monsanto Merger Press Conference
Credenz Going Big from #Classic17
Interview with Monty Malone, Bayer
Liberty Link Real Yield Sweepstakes Winners at #Classic17
Interview with Gary Tretter
Farm Economy, Tech, and Legacy of John Deere
Interview with John Lagemann, John Deere
3rive 3D Keeps Up With Faster Planters
Interview with Bill Voorhees, Illinois farmer
Finding Out What's New With FMC at #Classic17
Interview with Kaustubh Borah, FMC
John Deere C850 Air Cart for Small-Grain Producers
Interview with Tyson Harris, John Deere
Culver's CEO Shares Commitment to Farming Community
Interview with Joseph Koss, Culver's CEO
Poncho/VOTiVO Gives Great Odds
Poncho/VOTiVO Press Conference
Ethanol Keeps Growing Economic Impact
Interview with Geoff Cooper at Commodity Classic
Sorghum Partners Powers Yield Winner
Interview with Peter Fleming, North Carolina sorghum farmer
The Future of Weed Resistance
Interview with David Tanner, Bayer
FMC Talks Weed Resistance at #Classic17
Interview with Ken Smith, FMC