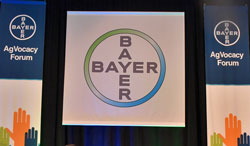 AgVocates from around the country gathered in San Antonio February 28-March 1, 2017 for the Bayer AgVocacy Forum.
This is the 12th consecutive year that Bayer has organized the forum before Commodity Classic to showcase individuals and ideas that are making a strong impact on the future of farming and food production. Also included in this post are links to posts from Bayer at Commodity Classic.
All content posted here is available free of charge for digital or print publication or broadcast. Credit can be given to AgNewsWire.
2017 Bayer AgVocate Forum Photos
It's #AgVocate Time for @Bayer4CropsUS –
ZimmCast with David Hollinrake, Bayer
Global Perspective at Bayer #AgVocate Forum
Dr. Vikram Mansharamani at Bayer Forum
Bayer Offers Outlook on Industry, Monsanto Acquisition
Bayer Outlook Remarks at #AgVocate Forum
Funding the Next Ag Food Revolution –
Funding the Next Agricultural Food Revolution
Bayer Talks Policy – Trade, WOTUS, Farm Bill –
Interview with Jim McVaney, Bayer Federal Relations & Policy Director
An #AgVocate Example to Feed the World
Interview with Adrian Percy, Bayer CropScience
Beyond the Farm Gate-It's All About Passion
Interview with Jay Hill, Hill Farms & Wholesome Valley Farms
Engaging Urban Youth in Ag
Interview with Bev Flatt, Flatt Rock Farm
Soybean Growers: Crop Protection Pays Off
Interview with Shawn Conley, University of Wisconsin
The Future of Weed Resistance
Interview with David Tanner, Bayer
Session audio
Remarks from Nathan Kauffman, Federal Bank of Kansas City
Remarks from David Rosenberg, CEO, AeroFarms
Farm Labor Issues in Rural America
Changes Coming to Your Food Labels
The Multi-Point Approach to Ending Food Waste
Science & Policy: How Embracing New Tech Benefits Sustainable Ag
Interviews
Interview with Lynn Jacquez, CJ Lake
Interview on Maximizing ROI in Soft Commodity Market
Interview with David Tanner, Bayer
Interview with Frank Rittman, Bayer
Interview with Jeremiah Mullock, Bayer
Commodity Classic Coverage
LibertyLink Finds Partners in FFA and AHA –
Interview with Jody Wynia, Bayer Interview with Iowa State FFA
Bayer/Monsanto Excited About the Future
Bayer/Monsanto Merger Press Conference
Credenz Going Big from #Classic17
Interview with Monty Malone, Bayer
Liberty Link Real Yield Sweepstakes Winners at #Classic17
Interview with Gary Tretter
Poncho/VOTiVO Gives Great Odds
Poncho/VOTiVO Press Conference