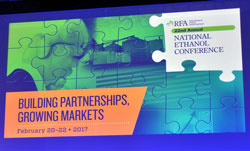 Welcome to the virtual newsroom for the National Ethanol Conference (NEC) sponsored by the Renewable Fuels Association. "Building Partnerships, Growing Markets" is the theme for the 22nd annual event held February 20-22 in San Diego, California.
The NEC provides an exclusive opportunity to engage key decision makers and industry executives, while networking and learning about the latest technologies and government policies. Speakers address a number of topics, including expanding infrastructure, blends above E10, high octane fuels and exports.
This virtual newsroom includes links to photos, audio and video from the conference. All content posted here is available free of charge for digital or print publication or broadcast. Credit can be given to AgNewsWire.
National Ethanol Conference photo album
2017 NEC Golf Tournament
RFA-NEC Photo Album
"State of U.S. #Ethanol Industry is Strong" –
2017 State of the Ethanol Industry Address
#RFANEC Future of Fuels Policy Panel
#RFANEC Future of Fuels Policy Panel
Reporters Curious About #Ethanol Issues
RFA CEO Bob Dinneen press questions
President Trump Sends Greetings To #RFANEC
Trump letter to #RFANEC
Military Vets Urge Trump to Add Biofuels to Energy Plan
EKAE CEO Jeff Oestmann at #RFANEC
High Octane, Low Carbon Future Panel at #RFANEC
High Octane, Low Carbon Panel at #RFANEC
Gasoline Markets and #Ethanol
Understanding Gasoline Markets Panel at #RFANEC
Agriculture and Ethanol Working Together
#RFANEC Ag Groups discussion
RFA Chair Urges #Ethanol Industry to be Bold
Interview with RFA Chairman Mick Henderson, Commonwealth Agri-Energy
Pacific Ethanol CEO Receives RFA Industry Award
Bob Dinneen, RFA and Neil Koehler, Pacific Ethanol
Point of Obligation Discussion at #RFANEC
#RFANEC Point of Obligation panel
Celebrate Paving the Way for Cellulosic Ethanol
Interview with Miloud Arabas, Enogen
Ethanol Export Opportunities in Sight at #RFANEC
#RFANEC Ethanol Export opportunities panel
Novozymes Helps #Ethanol Producers Listen to Data
Interview with Laurie Duval, Novozymes
Media Viewpoints at #RFANEC
#RFANEC media panel
How #Ethanol and Oil Can Work Together
Interview with Chet Thompson, AFPM