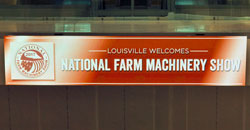 Welcome to the virtual newsroom for the 2017 National Farm Machinery Show, sponsored by FMC Corporation.
The National Farm Machinery show continues to be the largest indoor farm show in America with 850 exhibitors covering 1.2 million square feet of floor space at the Kentucky Exposition Center in Louisville. For 52 years, the National Farm Machinery Show has offered the most complete selection of cutting-edge agricultural products, equipment and services available in the farming industry. Business professionals from around the world gain knowledge and hands-on access to various technological advancements needed for the upcoming farming season during the four-day show.
This virtual newsroom includes links to photos, audio and video from the conference. All content posted here is available free of charge for digital or print publication or broadcast. Credit can be given to AgNewsWire.
2017 National Farm Machinery Show Photo Album
Preview of #NFMS17 – Interview with Steve Kelly, Kentucky State Fair Board
AEM to Collaborate with NFMS –
AEM/NFMS press announcement Additional comments from Rittenberry and Slater
FMC Urges Growers to Comment on Pyrethroids –
Interview with John Cummings, FMC
#NFMS17 Highlights Story of Rural Infrastructure –
Ryan Quarels, Kentucky Commissioner of Agriculture
Camso Intros CTS High Speed at #NFMS17 –
Interview with Martin Lunkenbein, Camso
FMC Excited About Product Pipeline –
Interview with Chris Reat, FMC
AEM Hosts Infrastructure Panel at #NFMS17
AEM Infrastructure Panel at NFMS17
Protecting Weed Technologies With FMC
Interview with Nick Hustedde, FMC
#NFMS17 Enjoys John Deere's New 5R Tractors
Interview with Chris Lammie, John Deere
Camso Launches AG 2500 Series Tracks at #NFMS17
Interview with Eric Blondeau, Camso
Farm Faster with 3RIVE 3D
Interview with Rick Ekins, FMC and Heath McCormick, Micro-Trak
Weather Outlook from #NFMS17
Interview with Bryce Anderson, DTN/The Progressive Farmer
FMC Promotes Cover Crops for Weed Control
Interview with Matt Wiggins, FMC
John Deere Designs for Comfort and Efficiency
Interview with Jason Beuligmann, John Deere
Deere Launches Connect Mobile App at #NFMS17
Interview with Amy Pousson-Noonan, John Deere
Case IH Highlights Drones, AccuTurn at #NFMS17
Interview with Ryan Blaksiack, Case IH and Brandon O'Sullivan, DroneDeploy
New Holland Expands PLM Offerings
Interview with Luke Zerby, New Holland
The Culture of Smartphones in the AgLeader Display
Interview with Jeff Dickens, Ag Leader
ICYMI: Live with Camso at #NFMS17

Veris Unveils On-the-Go Sensors at #NFMS17
Interview with Tyler Lund, Veris Technologies