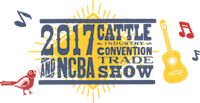 Welcome to the virtual newsroom for the 120th Cattle Industry Convention and NCBA Trade Show held February 1-3, 2017 in Nashville, Tennessee.
The event is the oldest and largest national convention for the cattle industry, where members come together to network, create policy for the industry and have some fun. This newsroom includes links to photos, audio and video from the conference. Find more information on the beef industry at the National Cattlemen's Beef Association (NCBA) website.
All content posted here is available free of charge for digital or print publication or broadcast. Credit can be given to AgNewsWire.
2017 Cattle Industry Convention & NCBA Trade Show Photo Album
A Little #CattleConn17 Preview
Interview with Tracy Brunner, NCBA President
#Cattlecon17 is Here – Get the Scoop from NCBA CEO
Interview with Kendall Fraizer, NCBA CEO
NCBA Talks Trump from #CattleCon17 –
Interview with Collin Woodall, NCBA government affairs
SCOTUS, WOTUS & Other Issues at #CattleCon17
Interview with Scott Yager, NCBA environmental counsel
Meet New NCBA President Craig Uden
Interview with Craig Uden, NCBA president-elect
Meet NCBA's New Policy Division Chair
Interview with Joe Guild, NCBA policy chairman
Wendy's Tells Story of Fresh Never Frozen Beef
Interview with Wendy's representatives Liliana Esposito and Carl Loredo
John Deere at #CattleCon17
Interview with Dave Yuska, John Deere Product Manager Interview with Kent Hughes, John Deere Construction and Forestry Interview with Chuck Studer, John Deere Director of Industry Relations
Boehringer Ingelheim Talks Merial Acquisition
Interview with Steve Boren, Boehringer Ingelheim
Public Lands Laws Seeing New Opportunities
Interview with Ethan Lane, Executive Director Public Lands Council & NCBA Federal Lands
Alltech's Focus on Calf Immunity
Interview with Brian Lawless, Alltech
Animal Agriculture Alliance Celebrates 30th Anniversary
Interview with Kay Johnson Smith, Animal Ag Alliance
Join Canada For 2nd Annual Beef Industry Event
Interview with Jill Harvie, Canadian Cattlemen's Association
National Stewardship Award Presented at #CattleCon17
ZimmCast with Jerry Doan, Black Leg Ranch
Zoetis Offers Tips for a Healthy Spring Transition
Interview with Dr. Blaine Corners, Zoetis