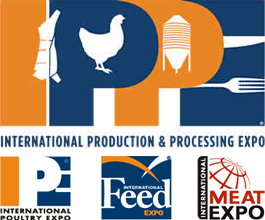 Welcome to the virtual newsroom for the 2017 International Production & Processing Expo (IPPE), sponsored by Novus International .
Formally known as the International Poultry Expo, the event has expanded in recent years to become the largest annual trade show for the poultry, meat and feed industries, with a focus on innovation, education, networking, and expanding the global reach of the industry. The Expo brings together over 1,200 exhibitors and 30,000 visitors, including more than 7,200 International visitors from 140 countries.
This virtual newsroom includes links to photos, audio and video from the conference. All content posted here is available free of charge for digital or print publication or broadcast. Credit can be given to AgNewsWire.
2017 International Production & Processing Expo Photo Album
Novus Committed to #Sustainability –
Interview with Luis Azevedo, Novus
New Officers for USPOULTRY –
Interview with Jerry Moye, 2017 USPOULTRY chairman Interview with John Glisson, USPOULTRY VP research
Policy Outlook From AFIA at #IPPE17
Interview with Joel Newman, President/CEO, AFIA