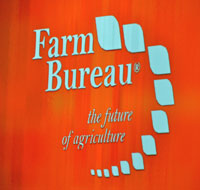 The 98th Annual Convention of the American Farm Bureau Federation and IDEAg Trade Show, held January 6-11, in Phoenix, Arizona.
Thousands of farmers and ranchers from around the country attend the convention which offers outstanding speakers and general sessions, the chance to recognize leaders in agriculture, programs for young farmers and ranchers, and much more.
All content posted here is available free of charge for digital or print publication or broadcast. Credit can be given to AgNewsWire.
More content available from AFBF here.
2017 AFBF annual meeting photos
Audio files:
#AFBF17 Kicks off with New President –
AFBF president Zippy Duvall address
AFBF president Zippy Duvall press conference
Stallman Honored for AFBF Service –
Bob Stallman, AFBF Distinguished Service
Agri-Pulse Announces Farm Bill Series and Summit –
Sara Wyant, Agri-Pulse and Dale Moore, AFBF
Farm Bill Talk at #AFBF17 –
Interview with Mary Kay Thatcher, AFBF
Meet New @FarmBureau YF&R Chair –
Interview with Kalena Bruce, 2017 AFBF YF&R Chair
#AFBF17 is a Wrap –
#AFBF17 Closing Press Conference
Crop Outlook from #AFBF17 – AFBF Crop Outlook with Pat Westhoff
Exploring the New Political Landscape at #AFBF17 –
AFBF New Political Landscape session
Food Safety Rule Session at #AFBF17 – Remarks from Bob Ehart, NASDA
#AFBF17 Panel Discusses Sustainability – AFBF Dirt on Sustainability panel