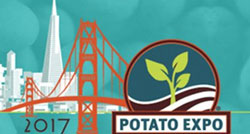 Welcome to the virtual news room for the 9th annual Potato Expo, January 4-6, 2017 in San Francisco, California.
Potato Expo is the largest conference and trade show for the potato industry held in North America, offering educational programming and networking opportunities for 2,000 growers, suppliers, and experts.
All content posted here is available free of charge for digital or print publication or broadcast. Credit can be given to AgNewsWire.
Audio files:
Welcome to #PotatoExpo from @NufarmUS – Interview from Potato Expo with Evan Carlisle, Nufarm
Second Spud Nation Contest Goes International –
Spud Nation Throwdown winner announcement Potato Expo chef panel
2016 was Transition Year for @PotatoesUSA –
Interview from Potato Expo with Blair Richardson, Potatoes USA
Continued Growth @NufarmUS – Interview from Potato Expo with Brian Rund, Nufarm