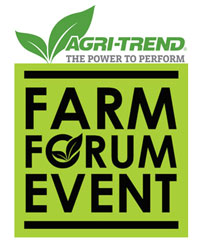 The FARM FORUM EVENT, a premier meeting hosted by AGRI-TREND®, moves to the Calgary TELUS Convention Centre December 6-8 with the theme LEARN & GROW for 2016. The FARM FORUM EVENT brings over 1000 attendees together to see the latest innovations, learn from top experts from the world's leading agricultural companies, and share information among the largest growers from Canada and the United States.
The event was conceived by AGRI-TREND and began in Saskatoon, SK in 1998. The company provides professional advisory services to growers through the AGRI-TREND Network of over 200 experts known as Coaches. These AGRI-TREND Coaches™ work with growers to help them make agronomic and marketing decisions throughout the year. As the business grew, so did the FARM FORUM EVENT. "This annual gathering is now a major event where farmers learn new things and grow their knowledge," says Neil Yelland, Director of Advisory Services, AGRI-TREND.
He explains how the new location expands the potential for the event. "We now have room to grow. We'll be able to improve the experience for everyone, as the convention center downtown provides more space and the connected hotels let all enjoy the event without worry about going out in the weather" says Yelland. He also shares that the event has been upgraded with entertainment planned nightly including farmer/country singer Drew Gregory opening for The Washboard Union.
Early bird registration is available online until November 4th, and the reservations for this year's FARM FORUM EVENT are already exceeding expectations. Yelland coaches "We encourage everyone to register early and take advantage of the special rates we've been able to negotiate for our attendees." A limited number of sponsorships remain available for the event.
For more information and to register, visit thefarmforumevent.com or call 404.343.8288.
Download pdf version of this release.