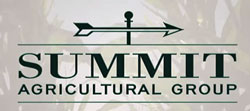 Iowa-based Summit Agricultural Group has introduced a new service model for farm and agricultural land management that brings the concept of 'unbundling' to traditional farm management offerings.
According to Joel Waskow, accredited farm manager with Summit Ag Management, Summit Advantage provides landowners with greater options and flexibility instead of binding them into the current one-size-fits-all approach. "We look at this like a cable company," explains Waskow. "We all have a lot of channels or services that we don't use that we have to pay for. With Summit Advantage, landowners can purchase only the services they want." Summit Ag Management is Summit Agricultural Group's full-service farm management and advisory unit.
Summit Advantage was just launched this month and Waskow says it has already received an enthusiastic response.
Learn more in this interview: Interview with Joel Waskow, Summit Agricultural Group