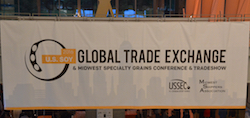 The 4th annual U.S. Soy Global Trade Exchange & Midwest Specialty Grains Conference and Trade Show hosted by the U.S. Soybean Export Council (USSEC), took place in Indianapolis, IN and is the premiere global soy and grain trade event. Over 700 attendees gathered with 300 of them representing 55 countries across the globe all focused on U.S. soy.
The event brought in the North American grain and oilseed industry, international buyers and traders, the transportation community, grain elevator managers, farmer producers, agriculture researchers and many others interested in international agriculture trade and the latest food trends.
2016 US Soy Global Trade Exchange Photos
US Soy Well Represented at Global Trade Event –
Interview with Jim Miller, USSEC Chairman
China Commits to $1.8 Billion Worth of U.S. Soy –
Interview with Xiaoping Zhang, USSEC China
A Glimpse into the World Economy Outlook –
Interview with Tim Quinlan, Wells Fargo Securities
Meet Arkansas Farmer & New USSEC Vice Chairman –
Interview with Derek Haigwood, USSEC Vice Chairman
The Modern Global Foodie – Are You Marketing to Them? –
Interview with Pauline Oudin, Sopexa
Why #USSoy? These Customers Answer –
Interview with Samuel Kwame Ntim Adu, Yedent Agro Interview with Mauricio Campillo, Solla
Demand for Aquaculture Creates Demand for #USsoy –
Interview with Colby Sutter, USSEC
USSEC Provides Sustainability Verification –
Interview with Rosalind Leeck, USSEC
Shipping Soy and Other Specialty Grains –
Interview with Bruce Abbe, Midwest Shippers Association Interview with Eric Powell, Indiana Railroad Co.
Why Chinese Choose #USSoy –
Interview with Sherwin Li, Chinatex
Aquaculture Explodes & #USSoy Meets Nutrient Demand –
Interview with Sebastian Bell, Maine Aquaculture Assoc.
Putting a Face on the American Soybean Farmer –
Interview with Todd Gibson, MO Soybean Farmer
The Sustainability of #USSoy –
Interview with Belinda Burrier, United Soybean Board
#USSoy – A People to People Business –
Interview with Bob Metz, ND Soybean Grower
The Global Value of US Soy –
Interview with Kevin Scott, SD Soybean Grower