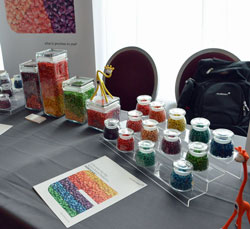 This summer, specialty chemicals company Clariant announced its full range of Agrocer™ seed colorants in North America and we saw them on display at the recent American Seed Trade Association (ASTA) annual meeting in Portland.
Philip Adams, Regional Sales and Marketing Director, Business Unit Pigments, says the Agrocer line fits in well with Clariant's sustainability platform. "All business units within the Clariant corporation are involved in a number of key sustainability growth areas and agro-chemicals are vitally important within the food chain," said Adams.
Agrocer colorants are available in a whole rainbow of colors and have been tested for seed safety. Manufactured as pigment powders and pigment preparations, Agrocer colorants comply with U.S. Environmental Protection Agency (EPA) inert ingredients regulations and are globally available.
Learn more about Clariant and Agrocer in this interview: Interview with Philip Adams and Mark Self, Clariant