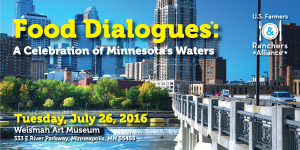 If there is one issue that impacts everyone on the planet, it is water. That's why the U.S. Farmers & Ranchers Alliance (USFRA) in collaboration with the Farm and Food Alliance of Minnesota, will host a Food Dialogues next week in Minneapolis called "A Celebration of Minnesota's Waters."
"We're addressing this as a celebration of water but also working to try to communicate to a new audience," said USFRA CEO Randy Krotz. "We're really focused on young people this time." Krotz says they feel there is a real need to communicate with high school and college age people because each generation becomes a little further removed from food production.
"A Celebration of Minnesota's Waters" will be held July 26 from 2:00-4:00 pm with registration and networking beginning at 1:00 pm at the Weisman Art Museum in Minneapolis.
Learn more in this interview: Interview with Randy Krotz, USFRA