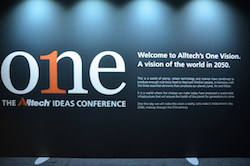 The ONE: Alltech Ideas Conference attracts nearly 3,000 agribusiness leaders from 71 different countries to take in the latest in agriculture, science and technology. Lexington, Kentucky is the home of Alltech and this year's symposium is focused on #ONEBigIdea. It's all about creation and innovation. Attendees are able to engage and interact with mind-expanding visionaries from across the globe.
View and download photos from the event here: 2016 ONE: The Alltech Ideas Conference Photo Album
ONE Vision – A Planet of Plenty –
Interview with Aidan Connolly, Alltech
The Alltech Idea Man –
Interview with Dr. Pearse Lyons, Alltech Founder
The Building Blocks for Better Beef Production –
Interview with Dan Dhuyvetter, Ridley Block Operations
Transforming Veterinary Medicine for the Future –
Interview with Dr. Stephen Collett, DVM, University of Georgia
The Farm Technologist – Just #ONEBigIdea –
Interview with Dr. Karl Dawson, Alltech
Alltech Honors Young Scientists At #ONEBigIdea –
Interview with Victoria Liu, AYS Program Director Interview with Alonna Wright, AYS Undergraduate Contest Winner
The Digitalization of Agriculture –
Interview with David Hunt, Cainthus
China – #ONEBigIdea for Beef –
Interview with Ian Lahiffe, Alltech China
Vets Turn Focus on Soil Health –
Interview with Dr. Johanna Fink-Gremmels, EFSA
Animal Agriculture Education – It Works –
Interview with Lance Barton, Belsta Milling Co.
Another #ONEBigIdea – Cuba –
Interview with Dr. Jorge Arias, Global Aqua Director, Alltech