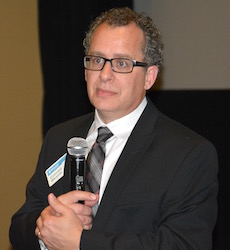 Thirsty Land, directed and produced by Conrad Weaver, focuses on the multi-year drought facing California, Washington and other southwestern states. The documentary debuted as part of the Water for Food Global Conference taking place April 24-26 in Lincoln Nebraska at the Nebraska Innovation Campus.
The documentary follows the journey of growers who share their stories of how water shortages have affected operations from dairy farmers to fruit producers to sheep producers. The film follows the farmers as they try to find solutions to get through the drier years; yet still produce enough food to keep the farm in operation all while putting conversation programs in place for future drier years.
While the documentary is about the unbreakable connection of water and food, it is really a film not for the agriculture industry, says Weaver, but for consumers. Weaver stresses there is a need for consumers to better understand the dynamics of water and food and thus, become more supportive of water programs that put agriculture first.
To learn more about the film, the experiences of the filmmaker and why he feels Thirsty Land is so important, listen to my interview with Conrad Weaver here: Conrad Weaver, Thirsty Land Producer & Director