Sinor Chemical Industry Co., Limited announces the appointment of Andrew Semple as Business Manager for NBPT in North, and South America, and the European Union.
NBPT is the world's most popular nitrogen stabilizer for urea, which is the most widely used nitrogen fertilizer on a global basis. SinorChem is an innovator in the production of NBPT, with the development of new process technology that produces high capacity production of NBPT at a lower cost.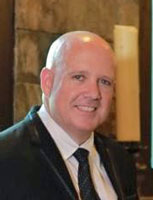 "I'm excited to join SinorChem" says Semple, "and I look forward to continuing my relationships in the fertilizer industry. Never has the demand for efficient fertilizer been so great as now, to feed our hungry world. I believe SinorChem has the capabilities to help increase market adoption of these important nitrogen stabilizers."
Andrew Semple was most recently CEO of Eco Agro Resources, LLC, a producer of NBPT formulated products for the global market. Previously, Semple was one of the pioneers of nitrogen stabilizers while with Agrotain International, which was acquired by Koch Agronomic Services in 2011.