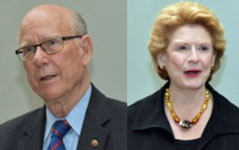 The Senate heard debate Tuesday on legislation proposed by Senate Agriculture Committee Chairman Pat Roberts (R-KS) to provide a voluntary national standard for foods containing genetically modified ingredients as well as an incentive to provide more information on biotechnology to consumers.
During his floor speech on the Biotechnology Labeling Solutions bill, Roberts stressed the pressing need for Congress to act now to avoid a patchwork of biotechnology labeling laws from state to state. Sen. Roberts' GMO labeling bill
Ranking Member Debbie Stabenow (D-MI) and Roberts both attended a pre-Ag Day event sponsored by Agri-Pulse Monday, where she talked about the difficulty of reaching agreement on the issue while acknowledging that something needs to be done.
Listen to her remarks here: Sen. Stabenow at Agri-Pulse event