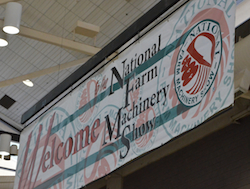 The 2016 National Farm Machinery Show is the 51st annual event in Louisville with 880 exhibitors covering 1.2 million square feet of floor space for the largest indoor farm show in America.
The free four-day event brings nearly 300,000 farmers from across the Midwest to explore the trade show and attend seminars on renewable energy, marketing and farm technology.
2016 National Farm Machinery Show Photo Album
FMC Focus on New Fungicide at #NFMS16 –
Interview with Nick Hustedde, FMC Corp.
Top Equipment Manufacturer Issues at #NFMS16 –
Interview with Nick Yaksich, AEM
New Holland Ag Introduces PLM RTK+ –
Interview with Luke Zerby, New Holland
FMC 3RIVE 3D™ Wins Award at #NFMS16 –
INTERVIEW WITH RICK EKINS, FMC
Agrible Making Big Impression at #NFMS16 –
INTERVIEW WITH LUKE ZWILLING, AGRIBLE
AEM Ag Chair at #NFMS16 –
INTERVIEW WITH AEM AG CHAIR JIM WALKER, CASE IH
Camso Debuts New Narrow Track System At #NFMS16 –
Interview with Martin Lunkenbein, Camso
2015 NCGA Yield Winner Speaks At #NFMS16 –
Interview with Randy Dowdy, NCGA Yield Winner
New T5 Series Debuts At #NMFS16 –
Interview with Todd Debock, New Holland
Camso Unveils New Roading Track At #NFMS16 –
Interview with Eric Blondeau, Camso
#NFMS16 ZimmCast with FMC –
ZimmCast from #NFMS16 with FMC
Case IH Reveals 2000 Series Early Riser Planter –
Interview with Tony McClelland, Case IH
AFS from Case IH Takes Precision Tech to Next Level –
Interview with Leo Bose, Case IH
Remote Irrigation Monitoring Saves Time –
Interview with Tanner Oliphant, AgSense
TractorPal App Simplifies Equipment Records –
Interview with Tractor Pal Creators
FMC Herbicides Part of LibertyLink Rebate Program –
Interview with Mark Howard, FMC
FMC Highlights Ethos XB at #NFMS16 –
Interview with Rick Ekins, FMC on Ethos XB
Valley Irrigation – Tech & Support Update –
Interview with Jim Winders, Valley Irrigation Interview with Merritt McDougall, Valley Water Management
KIOTI Tractor Brings Power to Any Project –
Interview with Scott Brush, KIOTI, Tractor
FMC in the Biologicals Market –
Interview with Rick Ekins, FMC on biologicals
Managing Weeds with FMC Authority and Anthem –
Interview with Mark Howard, FMC