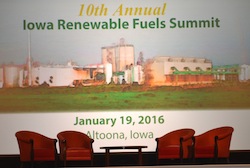 The 10th Annual Iowa Renewable Fuels Summit took place January 19 in Altoona, Iowa with record crowds. The day was kicked off by USDA Ag Secretary Tom Vilsack. Other notable speakers included Joe Jobe, CEO of the National Biodiesel Board (NBB) who gave the keynote as well as Iowa Governor Terry Branstad and Lt. Governor Kim Reynolds. Of note, during an TV interview following his remarks, Branstad said, "We must defeat Cruz."
With less than two weeks until Iowans caucus, several Republican presidential candidates took the stage including Senator Rick Santorum (his third appearance at the Summit), Governor Mike Huckabee, Carly Fiorina and "The Donald" Donald Trump. Bus loads of people arrived at the Prairie Meadows Conference Center to listen to Trump's views on biofuels who concurred with the Governor's statement.
Also during the event, Iowa Representative Steve King, Representative Dave Loebsack and Representative David Young, discussed the letter submitted to the EPA calling for calling for an increase in volumes in the Renewable Fuel Standard (RFS). Movement on the legislation regarding the RFS rules is expected by the EPA this June.
10th Annual Iowa Renewable Fuels Summit Photo Album
Secretary Vilsack: Continue to Tout Biofuel Benefits: Vilsack Remarks During IRFA Summit
Four GOP Candidates Address #Ethanol –
Rick Santorum Remarks Donald Trump's Remarks Governor Mike Huckabee's Remarks Carly Fiorina's Remarks
Iowa Governor Blasts Ted Cruz Over Ethanol –
Gov. Branstad comments on Ted Cruz Iowa Governor Terry Branstad Remarks
National Biodiesel CEO Keynotes Iowa RFA Summit –
NBB's Joe Jobe Keynote
Reynolds, Naig Highlight Fueling our Future 100 Program –
Iowa Lt. Governor Kim Reynolds Remarks Mike Naig on Fueling 100
Branstad, Reynolds and Naig Q & A session: Governor Q&A Session
Iowa Delegation Urges EPA to Get RFS on Track –
RFS Letter to EPA Presser