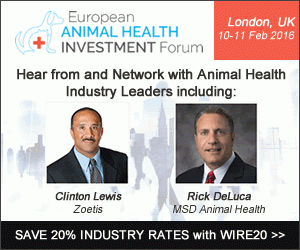 Make plans to attend the European Animal Health Investment Forum taking place in London, February 10-11, 2016 as the latest innovations for livestock and companion animal health are showcased.
Chaired by Clinton Lewis, Zoetis, this exciting event gathers animal health industry veterans with emerging companies for a networking forum dedicated to business partnerships.
Paired with an evening networking reception dedicated to business-partnering, the Animal Health Investment Forum Day will showcase 12 emerging companies with unique innovations for this industry.
All 12 are carefully chosen by a hand-picked Selection Committee, featuring Anterra Capital, Elanco, Commerzbank, Jefferies International and more.
Whether you're an early to mid-stage animal health company, a venture capitalist looking for your next investment, or are just keen to keep up with the latest trends in animal health, the European Animal Health Investment Forum is for you. Download the program online or contact events@kisacoresearch.com for a copy of the agenda today.
Animal.AgWired.com subscribers receive 20% off 'industry rates' only when you register with the discount code WIRE20.