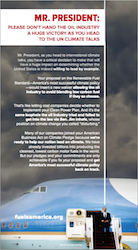 On a press conference call, top executives from Fuels America announced the launch of a new ad campaign targeting President Obama and urging him to lead the world on climate by getting the Renewable Fuel Standard (RFS) back on track as he heads into international climate talks. Speakers also discussed how the Administration's decision on the RFS will be critical in determining if the U.S. will lead by example on climate action.
The campaign, which is a six-figure buy consisting of a full page ad in the New York Times and digital ads in the Beltway, comes just days before President Obama will attend international climate talks and the Administration's final rule on the RFS due November 30.
Speakers on the call included Adam Monroe, President of the Americas, Novozymes; Roger Johnson, President, National Farmers Union; Delayne Johnson, CEO, Quad County Corn Processors; and Chris Standlee, Executive Vice President, Global Affairs, Abengoa Bioenergy.
Listen to the press conference and Q&A session here: Fuels America New Campaign Press Call