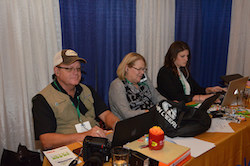 Trade Talk has become the "it" event for farm broadcasters and this year was no different. The ZimmComm team conducted dozens of interviews from Kansas City. Media is welcome and encouraged to utilize all the content gathered from the event by the team.
For additional content click here to hear audio from the NAFB National Convention that took place in tandem with Trade Talk.
View the NAFB Convention Photo Album.
Eco-Agro Resources Talks Penxcel Technology At NAFB –
Chuck Barber, Eco-Agro Resources
NCBA Update from Trade Talk –
Interview with Colin Woodall, NCBA Interview with Jennifer Houston, Federation Division Chair Interview with Tracy Brunner, NCBA President-Elect
Alltech Presenting Webinar on Mycotoxins –
Interview with Ann Hess, Alltech
Alltech Looks to Future at #NAFB15 –
Interview with Aidan Connolly, Alltech Interview with Nikki Putnam, Alltech
Farmers Edge Partnering With US Growers –
Interview with Kolby Nichol, Farmers Edge
#NAFB15 Last Trade Talk for AFBF President –
Interview with AFBF president Bob Stallman
Merck Talks Antibiotics & Producer Training –
Interview with Dr. Rick Sibbel, Merck Animal Health Interview with Dr. Justin Welsh, Merck Creating Connections
Iowa Biodiesel Makers Take to DC –
Grant Kimberley, executive director of the Iowa Biodiesel Board
Biodiesel Leaders Push for Tax Credit Renewal –
NBB board member Greg Anderson
American Society of Agronomy Enhances CCA Program –
Interview with Eric Welsh, American Society of Agronomy
Dairy Products & Consumer Confidence –
Interview with Jerry Messer, Midwest Dairy Interview with Stephanie Cundith, Midwest Dairy
Update from Better Seed at #NAFB15 –
Interview with ASTA president Risa DeMasi
Kinze Celebrates 50 Years of Innovation And Looks Forward –
Interview with Mike Gryp, Kinze
BIVI Talks Swine Health at #NAFB15 –
Interview with Dr. Fano, Boehringer Ingelheim
USFRA Educational Initiative – Discovering FARMLAND –
Nancy Kavazanjian, USFRA
Propane Expansion is Good News for Ag Producers –
Cinch Munson, Propane Education and Research Council
Nutrient Efficiency Remains Top Focus for Koch Agronomics –
Interview with Ron Restum, Koch Agronomic
Update from @NationalCorn at #NAFB15 –
Interview with NCGA vice president Wesley Spurlock
Lamb Industry Says "Try It, You'll Love It" –
Interview with Burton Pfliger, American Sheep Industry Association Interview with Jim Percival, American Lamb Board Interview with Megan Wortman, American Lamb Board
AgriClear – Empowering Both Buyer & Seller –
Interview with Dr. Nevil Speer, AgriClear
Update on John Deere Acquisitions –
Barry Nelson, John Deere
Grassland Oregon on the GO –
Interview with Jerry Hall, Grassland Oregon
LMA Insurance Protects Members –
Interview with Jennifer Aiman, LMA, PAYS Interview with Kristen Parman, LMA
FarmLink Continues to Put Farmers First With TrueHarvest –
Interview with Kevin Heikes, TrueHarvest
Beef Industry Talks Nutrition at #NAFB15 –
Interview with Jimmy Moxey, Cattlemen's Beef Board Chairman Interview with Dave Zino, Checkoff Executive Chef
Updates from Case IH at #NAFB15 –
Interview with Mitch Kaiser, Case IH Steiger Interview with Leo Bose, Case IH AFS Interview with Kelly Kravig, Case IH Combines
Growing Trends in Animal Activism –
Interview with Kay Johnson Smith, Animal Ag Alliance
Genetics are Key for American Angus –
Dan Moser, President, Angus Genetics Kara Lee, Production Manger, Certified Angus Beef
Swine Health Info Center Tackles Emerging Diseases –
Interview with Dr. Paul Sundberg, Swine Health Info Center
National Bison Association Reports High Demand –
Interview with Dave Carter, National Bison Association
Bayer Talks Animal Health Innovation –
Interview with Doug Stouffer, Bayer Animal Health Interview with Bruce Brinkmeyer, Bayer Animal Health
DuPont Pioneer Focused on Strong Agronomy To Boost Yields –
Interview with Brody Benton, DuPont Crop Protection
DuPont Says Residual Herbicides Are Key To Fighting Resistance –
Interview with Jeff Carpenter, DuPont Crop Protection
MachineryLink Sharing Adds Revenue For Growers In Off-Season–
Interview with Jeff Dema, FarmLink
Advanta Seed's Sorghum Research Focus on Cattle –
Interview with Travis Kidd, Advanta Seeds
Protect The Harvest Strengthening Their Defense –
Interview with Brian Klippenstein, Protect the Harvest