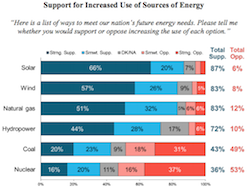 According to a new poll released today by the Natural Resources Defense Council (NRDC) and GREEN FOR ALL, two-thirds of African Americans believe global warming is a serious problem and want more action to curb its effects. This group also supports the Clean Power Plan (CPP), finalized in August, as a tool to address the climate crisis while 83 percent of respondents back setting the first-ever limits on carbon pollution from coal-and gas-fired power plants under the CPP. In addition, a strong majority of African Americans believe that as the nation drives down dangerous carbon pollution it can drive up the use of clean energy including wind and solar energy.
The survey also found that the move to clean energy will create new jobs – six times the proportion that believes it will results in job losses- and 57 percent believe the expansion will reduce their energy costs.
On the call was:
Adrianna Quintero, director of Partner Engagement at NRDC
Vien Truong, national director, GREEN FOR ALL
Rev. Stacey Edwards-Dunn of Chicago's Trinity United Church of Christ.
Mark Davis, CEO of WDC Solar, Washington, D.C.
The speakers stressed that the African American community has been directly affected by the effects of climate change. Rates of childhood asthma have increased 50 percent between 2001-2009 and 68 percent live within 30 miles of a coal-fired power plant.
Listen to the poll release press conference here: African American Climate, Clean Energy, Poll Presser