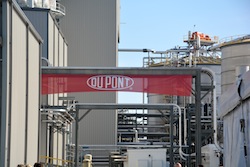 RE. FORM. ENERGY. This is what DuPont says they have done with their cellulosic ethanol biorefinery in Nevada, Iowa. When at full capacity, the plant will produce 30 million gallons of cellulosic ethanol per year – the largest producing biorefinery of its kind in the U.S.
The company held an event to mark the plant's official commissioning that featured several dignitaries. Famed musical artist Simon Estes kicked of the welcome reception with the National Anthem while Mr. Jan Koninckx, global business director, DuPont Biofuels, hosted the ceremony.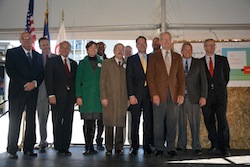 The theme of DuPont's advanced biofuels production is "RE. FORM. ENERGY" with the program guide stating, "We're changing the way the world tings about fuel. At the DuPont Nevada, Iowa facility, we're starting to reform energy with the manufacture of cellulosic ethanol. But in the future, we will all be working together to create new materials, new ways to use them and new ways to produce them. We'll be finding new ways to reform the biomass we have now, so we can use it to create whatever comes next.
Hi-res photos from the event are available by request.
The welcome reception featured (in speaking order):
Host: Mr. Jan Koninckx, Global Business Director, DuPont Biofuels
National Anthem: Mr. Simon Estes
Mr. William Feehery, President, DuPont Industrial Biosciences
Honorable Terry Branstad, Governor, State of Iowa
Honorable Kim Reynolds, Lieutenant Governor, State of Iowa
Honorable Chuck Grassley, U.S. Senator, State of Iowa
Honorable Steve King, U.S. Representative, State of Iowa
Honorable Bill Northey, Secretary of Agriculture, State of Iowa
Mr. Terraun Jones, DuPont Employee Representative
Honorable Lynn Lathrop, Mayor, City of Nevada
Dr. Johnathan Male, U.S. Department of Energy
Mr. Brian Sampson, Grower Harvest Program
Listen to the full welcome reception here: DuPont Cellulosic Biorefinery Welcome Reception Program
There was a special question and answer panel for media only following the opening event. Listen here:
DuPont Cellulosic Ethanol Media Conference