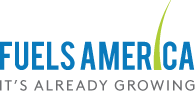 Fuels America is launching a new seven-figure TV and digital ad campaign today urging President Obama to make a choice between the oils industry and renewable fuels for the future.
The campaign depicts President Obama's choice of who to listen to when it comes to the Renewable Fuel Standard: his own experts who have repeatedly shown that ethanol and renewable fuel is dramatically reducing carbon emissions, or the oil industry, which has spent decades covering up the science and facts on both renewable fuel and climate science.
Announcing the campaign on behalf of Fuels America were Brent Erickson, Executive Vice President at BIO, and National Corn Growers Association president Chip Bowling.
Listen to Erickson and Bowling announce the new campaign here: New Fuels America campaign