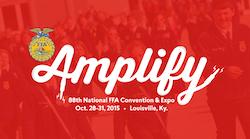 The 88th National FFA Convention & Expo is in full swing and the streets of Louisville, KY are flooded with corduroy jackets. The theme this year is #Amplify and that is exactly what the FFA members and conference attendees are doing this week from October 27-31st.
Several event highlights included the opening breakfast where former FFA members shared how FFA has helped them and the video tribute to the 85th anniversary of the FFA Creed. On Thursday, Oct. 29, USDA Deputy Secretary Krysta Hardin gave remarks and four American Star Awards were presented to FFA members who demonstrated outstanding agricultural skills and competencies through completion of a supervised agricultural experience program.
View photos from the 88th Annual FFA National Convention.
National FFA Officers #Amplify FFA –
Interview with National FFA President, Andy Paul Interview with National FFA Central Region VP, Kristen Schmidt
Connecting with the Future of Ag –
Interview with Mark Lowery, New Holland
The World Series of Agriculture –
Interview with Dr. Steve Brown, National FFA Advisor
Tyler Watkins – How Do You #SpeakAg? –
Interview with Pennsylvania State VP, Tyler Watkins
Ag Sec. Harden Believes FFA is the Difference –
Ag Sec. Harden Presser
There is a Future for Agriculture –
Pennsylvania State FFA Secretary Rachel Greig
The FFA Hunger Games –
Interview with Michele Sullivan, National FFA Organization
The Blue Corduroy Jacket –
Pennsylvania State FFA Sentinel Luke Kerstetter
Leadership from Ourselves –
Pennsylvania State FFA Treasurer Elizabeth Winklosky
The Future is Bright for FFA Star Finalists –
Star Finalist Benjamin Neindick Star Finalist Rory Tucker Star Finalist Jakob Wilson
American Star Finalist Discusses Program –
Interview with Will Woodworth, American Star in Ag Placement Finalist
Merck's Commitment to Future of Ag –
Interview with Jim Miles, Merck Animal Health
Beck's Teaches Students to Honor American Farmers –
Toby Ripberger, Beck's Hyribds
FarmHer, Inspiring Young Women in Ag –
Lexi Marek, FarmHer
American Star Finalist Focused on Future –
Interview with Dylan Massa, American Star Farmer Finalist