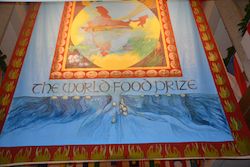 The 2015 World Food Prize kicked off in Des Moines, Iowa this week. Also taking place is Borlaug 101: Fundamentals of Global Food Security from October 14-15, 2015. To celebrate the 101st anniversary of founder Dr. Norman E. Borlaug (Green Revolution), and keeping in focus the unprecedented challenge the world faces to sustainably and nutritiously feed 9.7 billion by 2050, the 2015 conference gathered a "faculty" of international leaders, experts and scientists in three days of discussion on the Fundamentals of Global Food Security. The event drew thousands of attendees from around the world including governmental leaders, policymakers, farmers, CEOS and executives from agribusiness and non-governmental organizations, scientific, academic and development experts.
Of special note this year, Chelsea Clinton, the vice chair of the Clinton Foundation as well as the author of "It's Your World, Get Informed, Get Inspired and Get Going," delivered remarks focused on how to empower small holder farmers and women of all ages working in the agriculture industry. She also discussed some women in ag success stories in Africa and outlined how to get more girls involved in STEM fields.
And as in other years, the Global Harvest Initiatives released their 6th annual Global Agricultural Productivity Report: Building Sustainable Breadbaskets (#GAPReport2015) that detailed the great need to increase productivity as well as global investments in agriculture.
2015 World Food Prize photo album.
Audio
Vote to End Hunger Launched at #FoodPrize15 –
Vote to End Hunger Campaign Launch
Gap report 2015: Productivity, Sustainability Must Be Priority –
Dr. Margaret Zeigler's GAP Report Remarks Kelly Winquist's GAP Report Remarks Ann Steensland's GAP Report Remarks Dr. Catherine Woteki's GAP Report Closing Remarks GAP Report Panel Discussion
Chelsea Clinton on Women on Women in Ag During #FoodPrize15 –
Chelsea Clinton Speech
The Importance of TFP –
Interview with Kelly Winquist, John Deere
John Deere Brings Precision Ag to Small-Holder Farmers –
Interview with Geoff Andersen, John Deere
Precision Ag Will Play Key Role in Ag Productivity –
Interview with Cory Reed, John Deere
Ag Biologicals Can Play Starring Role in Productivity –
Interview with Colin Bletsky, BioAg Novozymes
Panel Discussions –
Empowering Women and Girls Through STEM Education
Coverage of the World Food Prize Global Harvest Initiative is sponsored by