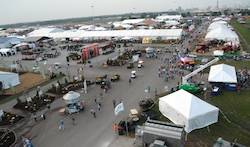 The 2015 Farm Progress Show, held September 1-3, featured more than 600 exhibitors, special events, field demonstrations, and much more.
Responding to a record number of exhibitors, show organizers added another 400,000 square feet of exhibit space on the southwest edge of the field, with three streets named for the traditional states the show covers: Illinois, Indiana and Iowa. The show now has more than 90 acres inside the fence, the biggest field footprint ever.
Below you will find links to general posts from the 2015 Farm Progress Show.
2015 Farm Progress Photo Album
Farm Progress Videos

#FarmProgressShow Preview –
Matt Jungemann, Farm Progress Show
USFRA Releases Sustainability Research –
USFRA Press Conference Interview with Nancy Kavazanjian, USFRA Chair
WOTUS Topic at #FarmProgressShow –
Interview with NCGA president Chip Bowling Interview with ASA president Wade Cowan
Cat Partners with AFBF in Commitment to Agriculture –
Interview with Dustin Johansen, Caterpillar Inc.
Rep @Rodney Davis at #Farm Progress Show –
Interview with Rep. Rodney Davis (R-IL)
Wrapping up Farm Progress Show – Don Tourte, Farm Progress Companies
Update from @USFRA at #FarmProgressShow – Interview with USFRA CEO Randy Krotz
NCGA: We Will Not Stand For RFS Attacks –
NCGA #FarmProgressShow Press Conference
Roundup Ready 2 Xtend Set for 2016 Launch
Interview with Ben Kampelman, Monsanto Company
Illinois Farm Bureau Celebrates 100th Anniversary –
Illinois Farm Bureau #FPS15 Press Conference
Study Finds Illinois Land Values Down –
ISPFRMA Land Values Press Conference
Ag Lenders Study from @BASFAgProducts
Interview with Brady Spangenberg, BASF
Update on Soil Health Partnership –
Interview with Nick Goeser, NCGA
Illinois Corn Working to Support #Ethanol, E15 –
Ken Hartman, Illinois Corn Interview
Ag Leader Introduces Electric Drive –
Interview with Alex Lundgren, Ag Leader Technology
Syngenta's Trivapro Receives Federal Registration –
Interview with Scott Cully, Syngenta
AFS Connect Keeps Farmers in Control –
Interview with Leo Bose, Case IH
Case IH Launches Optum Tractor Series –
Interview with Dave Bogan, Case IH
CHL Consultant & Grower Conducts Research –
Interview with Dan Davidson, grower and CHL Consultant
PrecisionHawk Drone's Soar Over a Field Near You –
Interview with Pat Lohman, PrecisionHawk
Growth's Kelly Manning Shares 'All Things Ethanol' –
Interview with Kelly Manning, Growth Energy