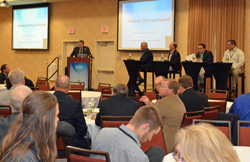 This week the Minnesota Soybean Research & Promotion Council conducted a first ever event in Mankato, MN. The event, "Biodiesel 2015 & Beyond: A Biodiesel/Bioheat Forum," brought together biodiesel industry market developers, researchers and a number of representatives of east coast oil heat and fuel companies. The open forum is provided an educational look at what's going on in the biodiesel industry and the work being done to develop bioheat as a good heating fuel option for the northeast.
The program was divided into two sessions moderated by Tom DiBacco, broadhead. In the first session we heard from Paul Nazzaro, Nazzaro Group, NBB Petroleum Liaison, providing an overview of biodiesel markets. He is followed by John Wenzel, FC Stone, who talked on emerging markets. Next up was John Huber, National Oilheat Research Alliance and Michael Trunzo, New England Fuel Institute who spoke about Bioheat and the evolution of Oil Heat.
There was no way to get a clean feed of the session audio but I recorded it anyway and did a little clean up on it. All interviews are fine though and several more will be posted by next week.
Photos:
Biodiesel/Bioheat Forum Photo Album
Audio:
Biodiesel and Bioheat Forum –
Biodiesel/Bioheat Forum Session 1 Biodiesel/Bioheat Forum Session 2
Winning Potential for Bioheat in Northest –
Clark Johnson, MN State Representative
Bioheat Great Option for Winter Heating –
John Huber, NORA
Hart Home Comfort Adds Bioheat to Usurp Competition –
Ray Hart, Hart Home Heating
New Biodiesel Techs, Feedstocks Help Expand Bioheat –
Doug Root, Ag Utilization Research Institute
Everyone Wins with Bioheat –
Paul Nazzaro, Nazzaro Group
Eric Degesero: Bioheat Wins Environmental Contest –
Eric Degesero, Fuel Merchants Association of New Jersey
RINS, Tax Credit Good Drivers of Biodiesel
John Wenzel, FC Stone
Biodiesel & Bioheat Forum Huge Success
Keith Schrader, MN Soybean Research & Promotion Council