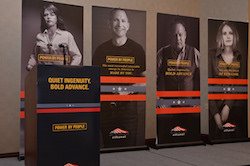 The 28th annual American Ethanol Coalition (ACE) Ethanol Conference kicked off today in Omaha, Nebraska (August 20-21) with a great crowd of ethanol supporters. The theme this year: "Quite Ingenuity. Bold Advance." This year also marks the one year anniversary of the "Power to the People" campaign.
Topics this year included E15, ethanol and dried distiller grains (DDGs) export opportunities, enhanced milling, regulation updates, tips on strategic planning, and more.
Click here to view the 28th Annual ACE Ethanol Conference Photo Album.
#ACE15 Annual Celebrates Ethanol Ingenuity –
ACE Executive VP Brian Jennings, 2015 annual meeting
ACE Chairman Optimistic About Ethanol Future –
Interview with ACE chairman Ron Alverson, Dakota Ethanol
E15 Update at #ACE15 –
Ron Lamberty, ACE Senior VP
Grains Council Chairman at #ACE15 –
USGC chair Alan Tiemann address to ACE
NRLE Studies E15 Infrastructure –
Kristi Moriarty, NREL
NEB's Todd Sneller Awarded #ACE Merle Anderson Award –
Todd Sneller on Winning Merle Anderson Award
#ACE15 Honors America's Renewable Future –
Interview with Eric Branstad, America's Renewable Future Interview with Bill Couser, America's Renewable Future
NCGA CEO at #ACE15 –
NCGA CEO Chris Novak at ACE Interview with NCGA CEO Chris Novak
Producer Panel at #ACE15 –
Delayne Johnson, Quad County Jeff Oestmann, East Kansas Agri-Energy Ray Defenbaugh, Big River Resources
Kum & Go, E15 Leader #ACE Award Honoree
Jim Pirolli, Kum & Go Kum & Go Honored with Paul Dana Marketing Vision Award
Protec Takes Unique E15, E85 Approach –
Todd Garner, Protec
#ACE15 Success, Jennings Highlights What's Next –
Brian Jennings' Conference Review
GREET Model Advances –
Dr. Jeongwoo Han, GREET Life-cycle Model
Ethanol Rail Opportunities & Challenges –
Hasan Hyder, Union Pacific