Fuels America held a press conference today to counter attacks on ethanol by the American Petroleum Institute (API) and to provide comments in advance of the Senate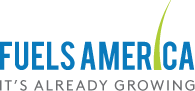 Homeland Security Committee hearing tomorrow, "Re-examining EPA's Management of the Renewable Fuel Standard Program," that will be focused on examining EPA's management of the RFS.
Participating in the Fuels America press call were  Cal Dalton, a corn farmer from Wisconsin; Fred Yoder, an Ohio corn grower; and Bob Dinneen, CEO and president of the Renewable Fuels Association. Participants discussed how legislative changes to the RFS will threaten America's security, consumer choice, climate and rural economies. They also provided insight on EPA's proposed renewable fuel obligations (RVOs) and they reacted to the claims put forth during the API media call.
Fuels America RFS Hearing Presser