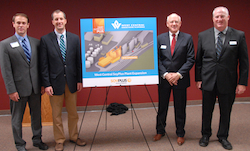 West Central celebrated a big announcement at their headquarters in Ralston, Iowa. The manufacturer of SoyPlus, an industry-leading high bypass protein dairy feed, made public their plans for expansion of the SoyPlus plant to increase production capacity by 50%.
The $27 million investment will include an additional line of mechanical presses, soybean storage, soybean oil storage, finished product storage and load-out access. The addition will come on in phases with new production volumes available as early as fall 2016.
Check out our ZimmComm West Central Press Conference Photo Album.
Audio can be found below:
West Central Expands SoyPlus Plant in Iowa – West Central Presser
West Central to Help Meet Global Protein Demand– Interview with Iowa Deputy Sec. of Ag Mike Naig
West Central Expansion Will Create Financial Strength– Interview with Milan Kucerak, West Central President/CEO
West Central Adding Value to Soybeans– Interview with Grant Kimberley, Iowa Soybean Board
West Central to Add 6M Bushel Bean Demand– Interview with Mark Cullen, West Central
West Central Puts Farmers First– Interview with Roger Fray, West Central