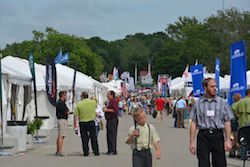 The 27th World Pork Expo (#WPX15) is set to break records again this year with more than 20,000 people from more than 20 countries attending. Other records include an increase in the number of junior members (closing in on 1,000) exhibiting more than 1,700 hogs with 200 of which are first-time participants.
World Pork Expo 2015 photo album.
Interviews and press conferences are listed below.
NPPC Press Conference, June 3, 2015 included Dr. Ron Prestage, NPPC president (antibiotic use); Dr. Howard Hill, NPPC past president (trade); and Steve Meyer, vice president with Express Markets Inc. Analytics (economic outlook): NPPC Press Conference
Branstad, Vetter Keynote #WPX15 Luncheon –
IA Gov Terry Brandstad and Lt. Gov Kim Reynolds USTR Agricultural Ambassador Darci Vetter
Pork Leaders Highlight Industry Issues at #WPX15 –
NPPC Presser - Dietary Guidelines NPPC Presser - Mandatory Price Reporting NPPC Presser - WOTUS
BIVI Announces New Vaccine at #WPX15 –Interview with Dr. Jessica Seate, BIVI
Managing Swine Production Costs at #WPX15- Interview with Dr. Daryl Olsen
Swine – Surviving Tough Economic Times 101–Interview with Dr. Aaron Lower, Carthage Veterinary Service
Livestock Antibiotic Use Big Issue at #WPX15 –
NPPC president Ron Prestage on antibiotic use Interview with Brad Greenway, SD pork producer National Pork Board (NPB) Press Conference, "Antibiotic Changes: Producers Need to Get Ready Now," included Chris Hodges, CEO, NPB; Jennifer Koeman, director of producer and public health, NPB; Brad Greenway, producer, Mitchell, South Dakota; and Jarrod Sutton, vice president of social responsibility, NPB: NPB Antibiotic Press Conference
Antibiotics and the Future at #WPX15 Panel featuring:
Mark Williams, Bader Rutter; Richard Raymond, M.D., former U.S. Department of Agriculture undersecretary for food safety; and Scott Stehlik, D.V.M., director, technical operations, The Maschhoffs – Antibiotics and the Future Panel Discussion
Swine Production Without Antibiotics –Interview with Dr. Liz Wagstrom, Chief Vet, NPPC
NPPC CEO Provides Organization Update –Interview with NPPC CEO, Neil Dierks
Paul Sundberg Named Director of SWIC –Interview with Dr. Paul Sundberg