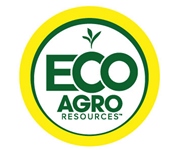 US-based Eco Agro Resources announced a commercial agreement expanding its product range to include Ekote, a line of eco-friendly controlled-release fertilizers by Ekompany. Ekompany based in the Netherlands and Eco Agro Resources of the United States will work together leveraging the latest technology of both companies to bring innovative products to agriculture and horticulture markets in North America.
Andrew Semple, CEO of Eco Agro Resources anticipates great demand for an alternative source of controlled release fertilizers in the North American markets especially when they are manufactured in a more sustainable fashion. Ekompany developed Ekote coated mineral fertilizers with an eco-friendly patented process. The process and the resulting enhanced efficiency fertilizer significantly reduce the carbon footprint and greenhouse gas emissions as compared to conventional processes and fertilizers. Sustainable organic polymers are used and harmful solvents are eliminated from the coating process. This new generation of controlled release fertilizer allows macro- and micro-nutrients as well as minerals to be delivered over a prescribed time period. By releasing just what the plant needs when it needs it, crop growth is maximized while minimizing environmental loss of nutrients.
Read full release here.