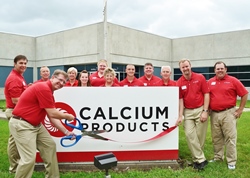 Calcium Products – North America's leading producer of precision soil amendments that improve soil quality to maximize nutrient uptake and strengthen yields – recently celebrated the grand opening of its new headquarters located at the Iowa State University Research Park. Included is a new research and development laboratory and customer support center. Company CEO Mike Hogan also announced the expansion of Calcium Product's sales force to support increased demand for its products in the US and Canada.
"Our new headquarters and R&D lab is located in the heart of the Midwest and right next door to Iowa State University, a worldwide leader in agriculture practices and soil sciences," says Hogan. "Managing soil quality is now a critical component of profitable farming as growers optimize their nutrients to maximize yields and return on their investment. Our new facilities will help us accelerate the development of more precision soil amendments that enable crops to absorb more nutrients and produce greater yields while protecting the environment at the same time."
Calcium Products' headquarters were previously located in Gilmore City, Iowa, one of its five (5) North American manufacturing and distribution facilities.