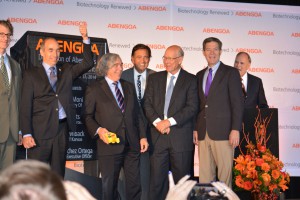 Spanish-based Abengoa celebrated its cellulosic ethanol achievement with a grand opening celebration on October 17, 2014. Thousands of people attended the event with dozens of high profile guests on hand ranging from former and current Senators to governors to the town mayor, to Interior Secretary and Energy Secretary Ernst Moniz who gave the keynote speech.
The bioenergy plant is based in Hugoton, Kansas and when at full scale will produce 25 million gallons of cellulosic ethanol from biomass per year as well as 21 MW of electricity.
Abengoa Cellulosic Ethanol Plant Grand Opening photo album.
Abengoa Celebrates Ethanol Achievement: Javier Garoz Neira Remarks Manuel Sanchez Ortega Remarks
DOE's Moniz Congrats Abengoa on Cellulosic Plant: Energy Secretary Moniz Remarks
Ethanol Industry Applauds Abengoa: Interview with RFA's Robert White at Abengoa Opening
Allison Details Abengoa Cellulosic Plant: Danny Allison Remarks
Pacific Ag Bundles Bales of Energy: Interview with Bill Levy, Pacific Ag
Additional audio:
Jack Rowden, Mayor of Hugoton, Kansas: Jack Rowden Remarks
U.S. Senator Pat Roberts, Kansas: U.S. Sen Pat Robert Remarks
Kansas Governor Sam Brownback: Kansas Gov. Sam Brownback Remarks