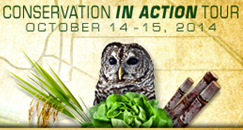 The Conservation Technology Information Center held its annual Conservation in Action Tour October 14-15 in the Everglades Agricultural Area (EAA).
The tour provided an in-depth look at the unique story of the approximately 700,000-acre EAA, located south of Lake Okeechobee in Florida. Lettuce, sugar cane and owls were just a few of the crops and creatures seen on the tour which featured EAA's specialized conservation practices, erosion control and nutrient management.
This virtual ag newsroom includes links to photos and audio content available free of charge for digital or print publication or broadcast.

2014 CTIC Conservation in Action Tour Photo Album

Florida Farm Bureau Welcomes Conservation Tour – Interview with John Hoblick, Florida Farm Bureau President
Controlling Phosphorus in the Everglades –
Terrie Bates, SWFMC Water Resources Division Director
Delia Ivanhoff, SWFMC environmental scientist
Bubba Wade, US Sugar Corp.
Growing Leaf Crops in the Everglades – Video interview with grower Paul Orsenigo

Barn Owls are Sustainable Rodent Control –







Water in the Sunshine State –
Presentation by FDACS water policy director Rich Budell on CTIC tour
Interview with Rich Budell, Florida Department of Agriculture
NCGA Staffer on CTIC Tour – Interview with Nick Goeser, NCGA
Precision Sugarcane Planting – Steve Stiles and Scott Berden with U.S. Sugar
Wrapping up the 2014 CTIC Tour –
Interview with Dennis Wedgworth, Florida Everglades grower
Interview with CTIC chairman Pauley Bradley, John Deere
Florida State Rep on CTIC Tour – Interview with Florida state rep Katie Edwards
Precision Sugarcane Harvesting – Interview with Ken McDuffie, U.S. Sugar