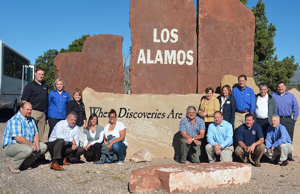 Verdesian Life Sciences is a company focused on science and technology. They are also focused on education – education of journalists, employees, sales representatives and ultimately growers. Verdesian is, as founder and CEO JJ Grow explains, a plant health nutrition company filling in the micronutrient and macronutrient gaps in agriculture. Or, in simpler terms, "Things that fix nitrogen".
The company hosted about half a dozen journalists at Los Alamos National Laboratory on October 1, 2014. The media heard from several researchers working on technologies applicable to agriculture, learned about the lab's mission, met with researchers from the Bioscience Center and learned about the successful relationship between the lab and Verdesian. It is this partnership that has brought some great nitrogen technologies to farmers around the world including Take-Off.
View the 2014 Verdesian Los Alamos Media Tour photo album.
Interviews:
Get to Know Verdesian: Interview with JJ Grow, Verdesian
Verdesian: From the Lab to the Field: Interview with Nigel Grech, Verdesian
Los Alamos National Laboratory Ag Innovations: Interview with John Mott, LANL
Verdesian Mission: Education: Interview with Michael Berry, Verdesian
LANL's Four Scientific Pillars: Remarks from Duncan McBranch, LANL
Innovation Will Meet the Needs for America: Remarks from Dave Perisi, Feynman Center for Innovation
Additional audio:
Research demonstration of High-Throughput Genotyping Technology by Alina Deshpande and Murray Wolinsky, LANL: Genotyping Research Demonstration