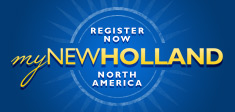 This morning New Holland launched MyNewHolland.com. This new virtual community is set up to provide a meeting place to share information, contribute to farming related discussions and access premium contents and services. It is very simple to create an account by visiting MyNewHolland.com. Full news release can be downloaded here (.doc).
Community members will have access to the features currently active. A list of those features includes:
My New Holland: a new online community for all
The Spotlight: discussions on a variety of topical subjects in the farming world
The first Spotlight: ethanol and renewable energy
Valuable information resources: instructional videos, white papers and more
Premium content: owners of New Holland equipment and Precision Land Management products gain access to useful materials that will help them get the most from their machines
Easy registration and log in through social networks
The Spotlight discussion is a key feature of MyNewHolland.com. Each discussion will feature a guest farmer or industry expert who supports a farming-related topic. All My New Holland members are invited to contribute their comments, opinions, material or images, driving the conversation forward. Each discussion will be open for a number of weeks; subsequently a white paper will be produced and made available for downloading.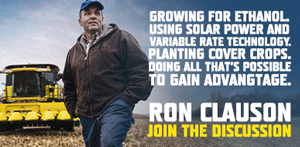 The first Spotlight discussion topic is "Ethanol: Renewable Energy for America – Profit for American Farmers." The guest is Indiana farmer Ron Clauson. His farm has produced corn for ethanol production for the last eight years.
"One hundred percent of the corn and soybeans we produce go into ethanol and biodiesel," Clauson says. "It makes me proud to be able to say we market our crops to produce fuel that reduces dependence on imports."
There are several questions being posed in this first Spotlight discussion soliciting member feedback.
Are you producing a crop for ethanol production? If so, what type and why?
How would a change in the Renewable Fuel Standard impact your community and you personally?
What do you think about the misleading claims against ethanol by critics and what can farmers do about it?
New Holland's North America Director of Marketing, Mark Hooper, says that there will be more features added in the future.
You can listen to Mark talk about MyNewHolland.com here: Interview with Mark Hooper