Boehringer Ingelheim (BIVI) recently hosted its Swine Health Seminar in Dallas, Texas. The theme: Running the Option: A Multifaceted Approach to PCV2 (or Porcine Circovirus).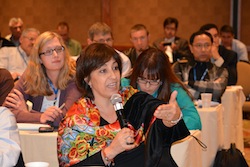 The virus was first discovered (or genetically identified) in 1974, and in essence, this year marks the 40th anniversary of PCV. Today, the virus has mutated into PCV2 a and b.
The Swine Health seminar covered all aspects of this virus from a diverse group of experts ranging from veterinarians from BIVI and Cargill Pork, researchers and international consultants. The in-depth presentations discussed diagnostics, control, protection and efficiency measures to prevalence and immunity, infield research, sow stability and vaccination. The event concluded with a roundtable discussion.
Click here to view the 2014 Swine Health Seminar photo album.
BIVI Launches Two PED Initiatives: Interview with Greg Cline
PCV2 – A Retrospective: Interview with Dr. Brian Payne
PCV2 Vaccination Strategies: Interview with Dr. Michael Murtaugh
What is the Infection Chain of PCV2?: Interview with Dr. David Baumert
Extra Benefits of Sow + Piglet PCV2 Vaccinations: Interview with Dr. Robert Desrosiers