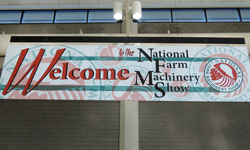 The 2014 National Farm Machinery Show in Louisville, Kentucky is four days of exploring the latest farm trends, technology and tools, in addition to five great Championship Tractor Pulls.
Dates for the 49th annual show and 46th annual tractor pull are Feb. 12-15, 2014. Eight interconnected exhibit halls totaling more than 1.2 million square feet of indoor exhibit space and containing more than 850 agricultural displays.
Links to photos, audio and video from the show available here.
National Farm Machinery Show Photo Album

John Deere 2014 NFMS Photo Album
NFMS One Year Shy of Big 5-0 – Interview with Show Manager Corinne Fetter On The Floor with New Holland – Interview with Mark Hooper

John Deere Reveals ExactEmerge™ Planter –

Walk Along a New Holland CR8090 Combine–
#NFMS14 Media Room by FMC – Interview with Paul Redhage FMC Anthem Provides Greater Flexibility – Interview with Nick Hustedde Fellowship of Christian Farmers at NFMS – Interview with Jeff Mings, FCFI volunteer John Deere Introduces SeedStar™ Mobile – Interview with Mike Brandert, John Deere Classic is Next Show for John Deere ExactEmerge – Interview with Kelby Krueger, John Deere Ag Interest in UAVs Really Taking Off – Interview with Suzanne Smith, University of Kentucky Case IH Talks "Photo Copy" Plants at NFMS – Interview with Bill Hoeg, Case IH Climate Corporation Offers Climate Information – Interview with Jeff Hamlin, The Climate Corporation New Holland Smart Hay & Forage Tools – Interview with Robert Hendrix FMC Watch & Win Winner – Interview with Dan Bender Get Maxx Authority from FMC – Interview with Nick Hustedde Championship Tractor Pull Brings in Best in Business – Interview with Mike Wilhite A Tradition of Healthy Competition at NFMS – Interview with Butch Krieger New Holland Compact Tractors
United Soybean Board Director at NFMS – Interview with Doug Winter, United Soybean Board New Holland Brand Marketing Manager – New Holland Dawn Pelon Meet Anna Leigh from Alabama – Interview with Anna Leigh Peek, Auburn graduating senior