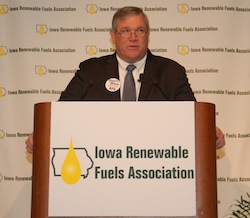 The 8th Annual Iowa Renewable Fuels Summit was a soaring success on Tuesday, January 28, 2014 when more than 600 industry members and interested consumers gathered at the Prairie Meadows Convention Center in Altoona, Iowa. During the morning attendees heard about the efforts of the Iowa Renewable Fuels Association (Iowa RFA) who hosts the event each year. In addition they heard about the legislative efforts surrounding biofuels in Washington, D.C.
In addition to the EPA's 2014 proposed rules for the Renewable Fuel Standard (RFS) other hot topics included biodiesel, E15, cellulosic ethanol and the coveted E85 John Deere riding lawnmower.
Here is a link to the story about the winners of the 4th Annual Fuel the Future video winners. Jon Low, an 11th grader at Lin-Marr High School won the $1,000 grand prize.
Monte Shaw, Executive Director of the Iowa Renewable Fuels Association: Monte Shaw Interview
Bob Dinneen, President and CEO of the Renewable Fuels Association: Bob Dinneen Interview
Iowa General Attorney Tom Miller press conference: Tom Miller Press Conference.
Iowa Governor Terry Branstad: Terry Branstad Remarks
Iowa Lt. Governor Kim Reynolds remarks: Kim Reynolds Remarks
Jim Baker, EcoEngineers and winner of the FFV John Deere riding lawnmower: Jim Baker Interview