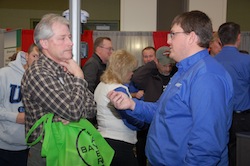 The 2014 Iowa Power Farming Show is in full swing this week in Des Moines, Iowa and according to Tom Junge, show director nearly 25,000 people are expected to attend the third largest farm show in the United States. The show expands 7 acres and features exhibitors from 29 states and 4 Canadian Provinces; represents 750 companies and more than 1,800 booths.
The farming show features a plethora of different agriculture products ranging from tractors to skid steers, combines to sprayers, planters to utility vehicles to grain trailers, landscape and turf equipment and outdoor power equipment. In addition, there were companies showcasing their precision ag electronics, management software and ag-related accessories.
Audio interviews from the event will be posted here:
Tom Junge, Show Director, Iowa Power Farming Show: Tom Junge Interview
Mike Olson, Ag Leader, on the 2014 Iowa Power Farming Show: Mike Olson Interview
Josh Rasmusson, Ag Leader, on the Compass display:  Let Ag Leader's Compass Guide You
Brett Buehler, Ag Leader, on Hydraulic Down Force: Brett Buehler Interview
Kaleb Linquist, Ag Leader, on AgFiniti: Kaleb Linquist Interview
Luke Bunkers, Ag Leader, on Water Management: Luke Bunkers Interview
Tyler Anderson, Ag Leader, on SMS Data Management: Tyler Anderson Interview
View the 2014 Iowa Power Farming Show photo album.