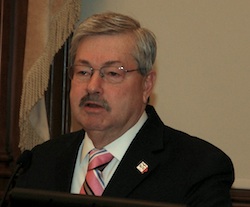 Hundreds of biofuel supporters from around the Midwest gathered in Des Moines Thursday to submit comments to the Environmental Protection Agency (EPA) at a "Hearing in the Heartland: Supporting the Renewable Fuel Standard" hosted by Iowa Governor Terry Branstad.
The hearing was organized after EPA declined to do so and included comments from dozens of lawmakers, government officials, farmers, biofuel producers, and other interested parties from seven states.
Audio from the hearing is being posted here.
Iowa Governor Terry Brandstad – Gov. Branstad comments
Iowa Lt. Governor Kim Reynolds – Lt. Gov Reynolds comments
Representative Tom Latham (R-IA) – Cong. Latham comments
Representative Steve King (R-IA) – Cong. King comments
Indiana Lt. Governor Sue Ellspermann – Ellspermann comments
Iowa Ag Secretary Bill Northey – IA Ag Secy Northey comments
Nebraska Department of Agriculture Director Greg Ibach – Ibach comments
Dr. Bruce Babcock, Iowa State University – Babcock comments
Dr. Timothy Gibbons, retired US veteran from Mason City – Gibbons comments
Iowa Renewable Fuels Association Executive Director Monte Shaw – Shaw comments
View the RFS: Hearing in the Heartland photo album.