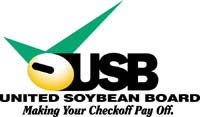 This morning the United Soybean Board held a conference call with media to introduce new officers and answer questions. An audio file of the recording is available below.
USB ADDS 70th DIRECTOR, ELECTS NEW CHAIRMAN AT ANNUAL MEETING
The year 2014 will be a historic one for the United Soybean Board (USB) as it expands to a 70-member board of volunteer farmer-leaders. USB held its annual meeting, this week in St. Louis, where it swore in that new director, as well as elected a new chairman, vice chairman and other new officers.
Listen to or download the call here: USB Conference Call