Two new organizations have entered the fight for the Renewable Fuel Standard (RFS) today as concerns about the future of the RFS deepen with the Environmental Protection Agency's (EPA) proposed 2014 renewable fuels volumes going south. VoteVets.org and Americans United for Change held a press teleconference to announced their participation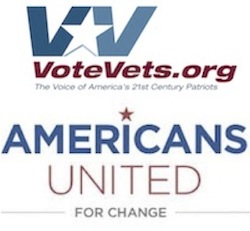 in the counteroffensive against what they are calling, "Big Oil's lies about the renewable fuel industry's remarkable record of creating nearly 400,000 American jobs that can't be outsourced, revitalizing rural communities, innovating next-generation renewable energy, and making us safer by reducing reliance on oil from unstable foreign regions and regimes that hate us."
On the call were Jon Soltz, Co-Founder and Chairman of the 360,000+ supporter veterans group, VoteVets.org; Brad Woodhouse, President, Americans United for Change; and Myrna Heddinger, Mayor of Emmetsburg, IA the site of a current POET ethanol plant and the location of Project LIBERTY, a commercial scale cellulosic biorefinery under construction by POET-DSM and expected to go into production my mid-year 2014.
The speakers noted that American jobs, American innovation, and America's energy security are under siege by the oil industry that has made a top priority of repealing of the Renewable Fuel Standard. They said that despite raking in record profits and tens of billions of dollars in taxpayer subsides, Big Oil wants more and they're willing to do more than just price gouge at the pump to bolster their bottom line. One of the dirtiest industries is now trying to pollute the public discourse on biofuels including ethanol because they hate having to compete with cheaper, cleaner burning renewable fuels that saves consumers almost $100 million a day that would otherwise be sent overseas.
The speakers also said that Big Oil's misinformation campaign against the RFS is not just a threat to our economy, but a threat to our national security and our environment.
Listen to the full press call here: Veterans Enter Fight for RFS