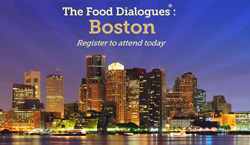 This week the U.S. Farmers and Ranchers Alliance held a Food Dialogues event in Boston, MA. You can find out more about it on their website. The event was moderated by Bloomberg News' Alan Bjerga and the topic was "Farm Size: Does It Really Matter." The event took place from 1:00 p.m. to 3:00 p.m. EDT at the State Room on Thursday.
Photos: Boston Food Dialogues Photo Album
Audio:
Interview with Alan Bjerga
The panel discussion was streamed live online, featuring opening remarks from Dr. A. Richard Bonanno, Ph.D., president of the Massachusetts Farm Bureau.
Dr. Richard Bonanno Opening Remarks
Interview with Dr. Richard Bonanno
Panelists include:
Leah Beyer, Farmer and Consultant, Indiana Soybean Alliance and Indiana Soybean Association, Columbus, Ind.
Interview with Leah Beyer Jamie Cruz, Owner/Grower, Springdell Farm, Littleton, Mass.
Interview with Jamie Cruz Michael Jacobson, Founder, Food Day and Executive Director, CSPI – Not Interviewed
Bill Luckey, Farmer, Columbus, Neb.
Interview with Bill Luckey Lori Renzi, Vice President, Brand Strategy and Development, Charlie Baggs Culinary Innovations
Interview with Lori Renzi Bruce Rominger, Farmer, Rominger Brothers Farm, Winters, Calif.
Michael Swanson, Ag Economist, Wells Fargo Bank
Interview with Bruce Rominger & Michael Swanson