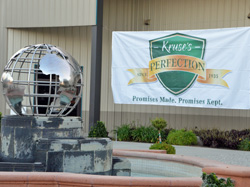 The O.H. Kruse Grain & Milling company holds its 2013 Grand Opportunities customer appreciation event at the International Agri-Center in Tulare, CA. This post will be updated over the next couple days with more photos and interviews you may use in your broadcasts, websites and publications.
Photos of the event:
Audio:
Interview with Ashli Cole - Marketing/Customer Care Mgr.
Interview with Jill Cary, VanCary, Inc. about Root Beer Float Mobile
Interview with Scott Vetter, ADM
Interview with Tom Jermin, Templeton Feed & Grain
Interview with Dr. Amy Gill, equine nutritionist
Interview with Jay Kelley & Kevin Hamilton, Adayana, on Selling Value
Interview with Chad Pinter, CFO, O.H. Kruse
Interview with Jen & Jeff Wise, owners of Wise Acre Feed & Supply
Interview with Interview with Nicholas & Cody Flores, owners of Las Flores Winery
Interview with Damian Mason, keynote speaker & comedian